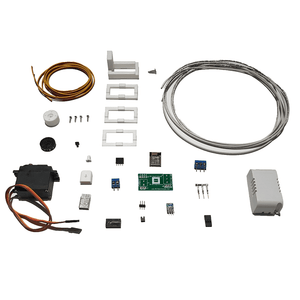 BACK IN STOCK! ORDER NOW BEFORE THEY SELL OUT AGAIN!
OVER 390 UNITS SOLD!
This is a kit to make your very own wifi openhab MQTT controlled Blinds. This device will work with blinds whose top raceway (where all the mechanical parts of the blinds are) is at least 54mm.

If your blind shaft is not the square shape then send us a message in the contact tab and we will make whatever shape you need for your blinds shaft.
Both the DIY Kit and Assembled device come with MK-BlindsControl firmware version 2 installed so all you have to do is connect it to your server using your mobile phone.
Please also note: If you would like this kit put together for you, so all you have to do is plug it in and connect it to your OpenHAB or Home Assistant server then click the Assembled option in the dropdown.
If you have any questions, please do not hesitate to ask!
Included in this kit:
| | |
| --- | --- |
| 2 Pin Terminal | 1 |
| 4 Pin Female Header | 1 |
| 3 Pin Male Header | 1 |
| 3 Pin Terminal | 1 |
| 2 Pin Jumper | 1 |
| Esp8266 | 1 |
| 5v To 3.3v Regulator | 1 |
| Custom PCB | 1 |
| Enclosure | 1 |
| 2 Conductor 22 Guage | 10 ft |
| Male USB Connector | 1 |
| Servo Adapter plate | 1 |
| Servo Motor | 1 |
| Servo to blinds adapter screws | 4 |
| Servo Adapter plate screw | 1 |
| Servo mount screws | 2 |
| Servo Motor Cable | 6ft |
| Servo Motor Connectors | 1 |
| Servo Motor Blinds Adapter | 1 |
| Servo Motor Mount | 1 |